Respiratory protection equipment supported by FGSZ offers major help again in the second phase of the pandemics
2020. 11. 16.
The second phase of the coronavirus epidemic has hit our country more forcefully than before, and case numbers are constantly increasing. The job of healthcare workers is critical in such a difficult period of time, hence, to support their protection is more important than ever. This was the goal of FGSZ when purchasing respiratory protection equipment during the summer, as this was the best way to help the protection of healthcare employees of three hospitals around lake Balaton – in Kaposvár, Veszprém, and Zalaegerszeg.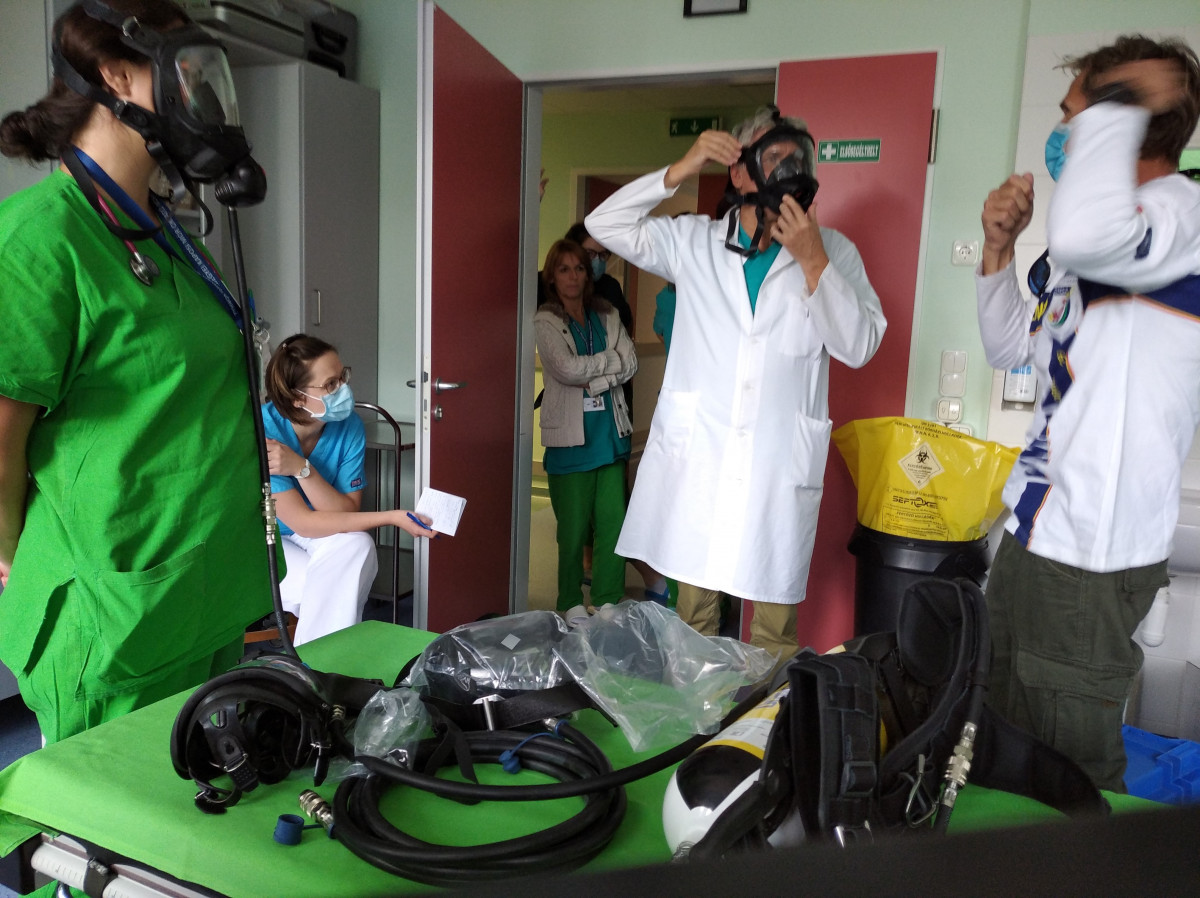 As we reported in June, the decade-long cooperation between the Water Rescue Services of Hungary and FGSZ has been expanded with a new initiation, when our Company had supported the purchase of respiratory protection equipment. The devices aim at the respiratory protection of the professional healthcare staff and at lowering their exposure to potential infection, thus offering extra protection to healthcare workers. The respiratory protection insulation equipment guarantees the full protection of 4 healthcare workers against the virus simultaneously in each hospital, during any form of patient care, warranting safe execution. During the training, 22 doctors and nurses were shown the application of the personal protective equipment, the technique of assembling and disassembling the equipment, as well as their systemic use.
Following the summer handover and the display of proper use of the equipment owned by the Water Rescue Services, hospitals are allowed to use the devices free of charge. Somogy, Zala, and Veszprém counties are among moderately and slightly infected areas, however, according to healthcare workers, equipment is needed everywhere. "The daily use of the devices has become a routine. We are satisfied with the overpressure full-face masks operating with outside air because they do not mist up and provide a full protection for us" – healthcare workers say.
We are proud that the equipment donated by FGSZ effectively contributes to guaranteeing that the conscientious work of healthcare employees is performed under safe circumstances.
For more information about the devices and their use, visit the website of the Water Rescue Services.
Search
Subscribe Newsletter