Company History
The development of the natural gas pipelines of Hungary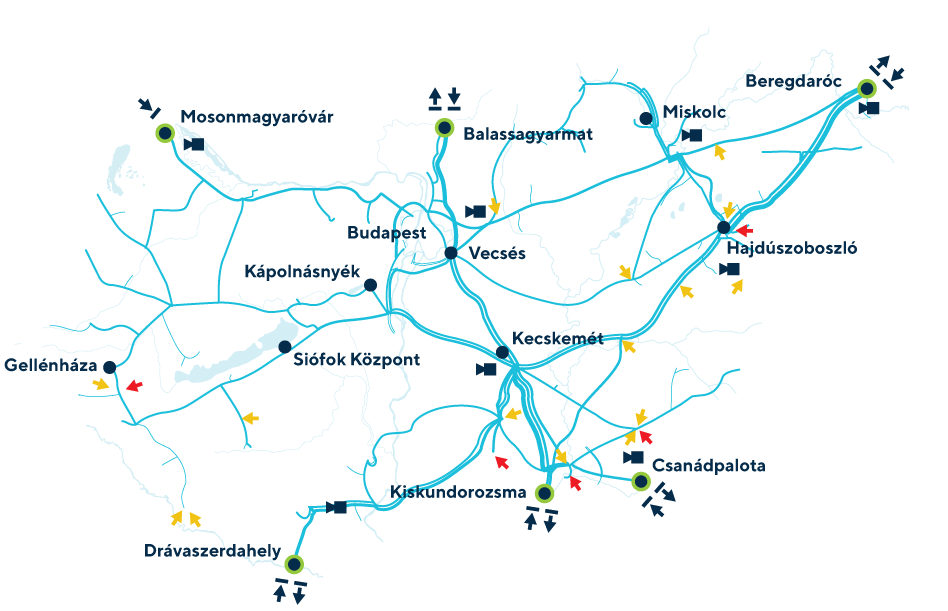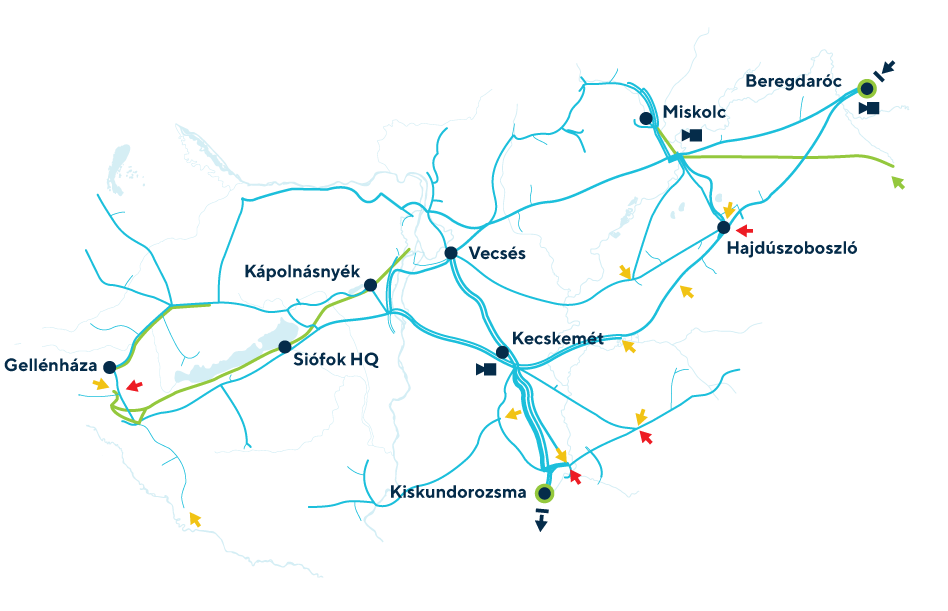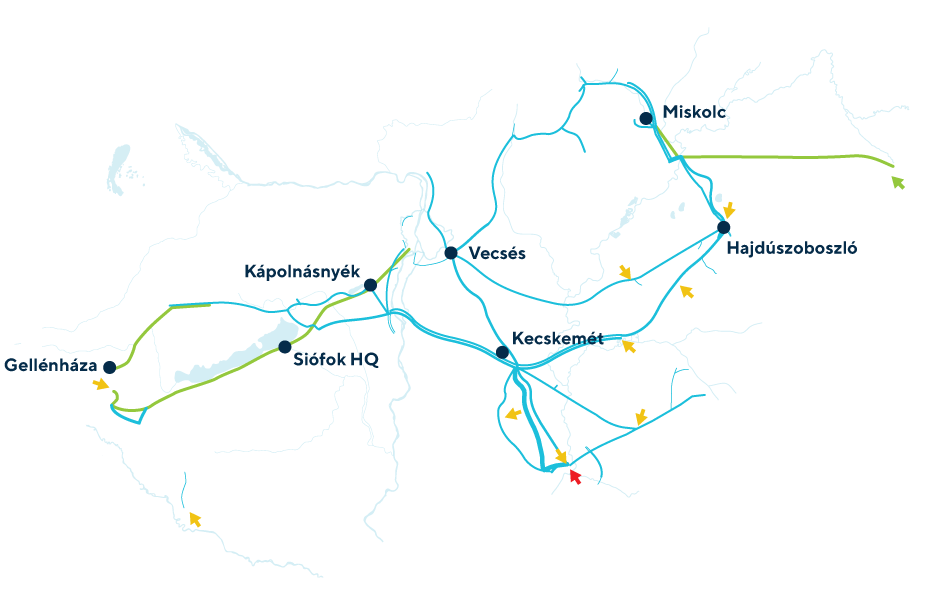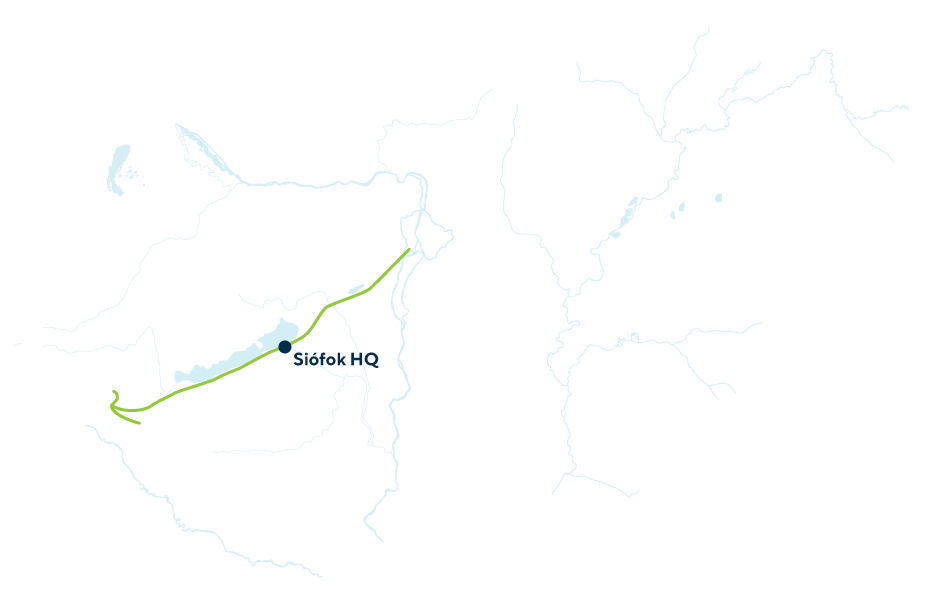 According to pipeline diameter (Ø)
D≤ 300 Gas pipelines
300 ≤D≤ 500 Gas pipelines
600 ≤D≤ 800 Gas pipelines
1000 ≤D Gas pipelines
Former natural gas pipeline
Legend
Domestic production inlet point
Former import inlet point
Underground Storage Entry/Exit point
Compressor station
Cross border entry point
Cross border exit point
Virtual reverse flow
Regional centre
Cross border point
Milestones in the Natural Gas Industry
The discovery of the first Hungarian oil and gas field in Budafapuszta, Zala county.
The handover of the first gas pipeline (Budafa – Újudvar).
The Hungarian-American Oil Inc has the gas pipeline connecting Bázakerettye and Nagykanizsa built.
The natural gas transmission to the capital begins (Bázakerettye – Budapest), The National Mineral Oil and Natural Gas Transportation Company is founded.
The Crude Oil Pipeline Company is established in Siófok.
The transmission through the first (Romanian – Hungarian) import pipeline begins.
A dispatch center opens at the company headquarters, in Siófok.
The Crude Oil Pipeline Company is divided into two companies, the Gas and Oil Transmission Company (GOV) and the Crude Oil Pipeline Construction Company (KVV).
Connecting to the Soviet natural gas transmission network (through the Testvériség import pipeline).
MOL Plc is established and GOV ceases to exist. Subsequently, the natural gas transmission organization operates as an organizational unit of MOL Plc.
The Austrian-Hungarian interconnector (HAG import gas pipeline) is built.
The MOL Natural Gas Transmission Plc is established.
The name of the company is changed to FGSZ Natural Gas Transmission Closed Company Limited by Shares (abbreviated as FGSZ Ltd).
Completion of import capacity enhancement project, growing capacities from Ukraine.
Launching the Daily Natural Gas and Capacity Trade Market.
HUN-RO and HUN-HR interconnectors are built.
We are among the first to receive the ITO (Independent Transmission Operator) certificate in the European Union.
Handover of the interconnector between Hungary and Slovakia, operated by the Hungarian Gas Transit Ltd. The project had been realised with the professional assistance of FGSZ Ltd.
The Regional Booking Platform (RBP), the capacity allocation application of FGSZ is launched.
FGSZ Trading Platform Ltd. is established, as a subsidiary of FGSZ.
RBP and other business applications of FGSZ are renewed – among others the Information Platform, the website, and the brand image of FGSZ.
By integrating Hungarian Gas Transit Ltd., FGSZ Ltd. becomes the owner and operator of the whole domestic natural gas transportation system.
As a part of the Hungarian ROHU development, the compressor station at Csanádpalota is handed over. The station is capable of transporting 1.75 bcm natural gas/year from Romania.
Creation of the Virtual Interconnection Point at Beregdaróc UA/HU border point.
Commercial commissioning of Serbian-Hungarian interconnector pipeline