Statistical data
The statistical data below is based on  IEA (International Energy Agency). 
The share of natural gas in the global energy mix is 24%[1], 21% in the EU[2], while 34% in Hungary[3].
Based on data from 2018, globally proven gas supplies amount to 197.000 bln cubic metre, which could fulfil the gas consumption of the world for 51 years. The largest gas supplies of the world are located in the Middle East and in Russia, while in Europe the ratio is only 2%, and constantly decreasing.
According to market trends, large gas producing countries are traditionally large consumers as well. However, Europe consumes 14% of the world in a way that it only shares 6,5% in the production. Hence, a significant part of its annual use (approx. 500 bln cubic metres) is provided from import.
EU gas import in 2018-2019 (percentage in value trading) 
(Source: Euro Stat)[4]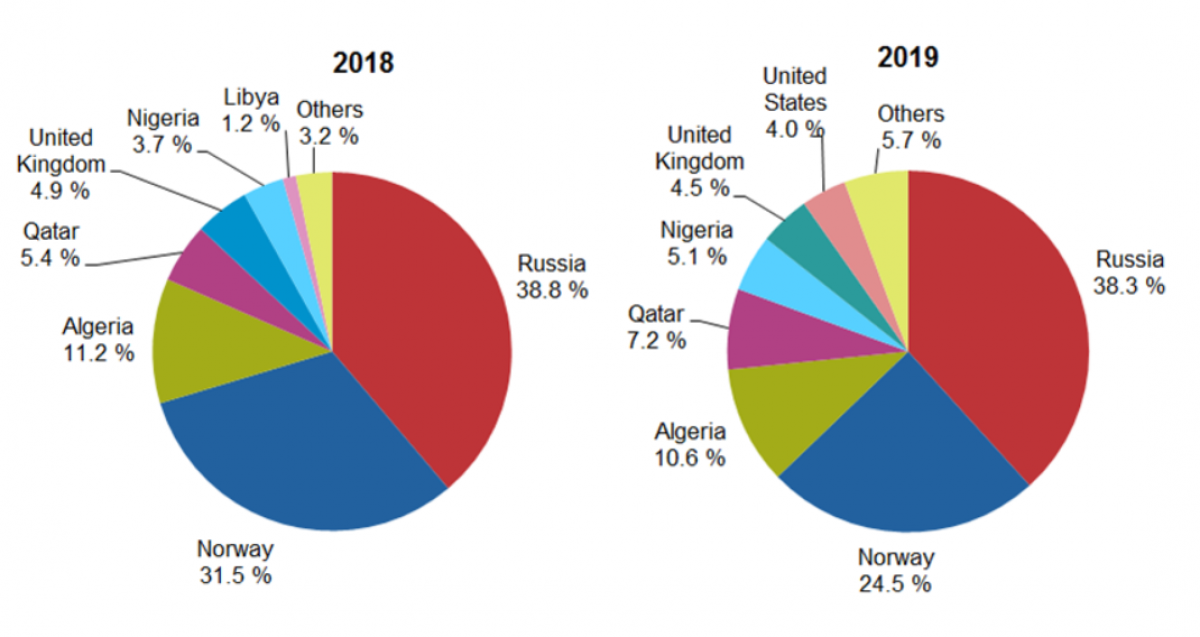 In the primary energy consumption of Hungary, natural gas is in a leading position, largely due tot he fact that it is constantly available, adapting to arising needs. Although its advantage has decreased as developments aiming at renewable energy sources progress, it is still the most significant energy carrier in the domestic primary energ consumption.
Domestic natural gas consumption is mostly determined by the winter weather, moreover, it is also largely effected by its use for electricity and industrial purposes. Natural gas consumption shows a decreasing trend in the long run, but during the past few years it stagnated around 10 bln cubic metres.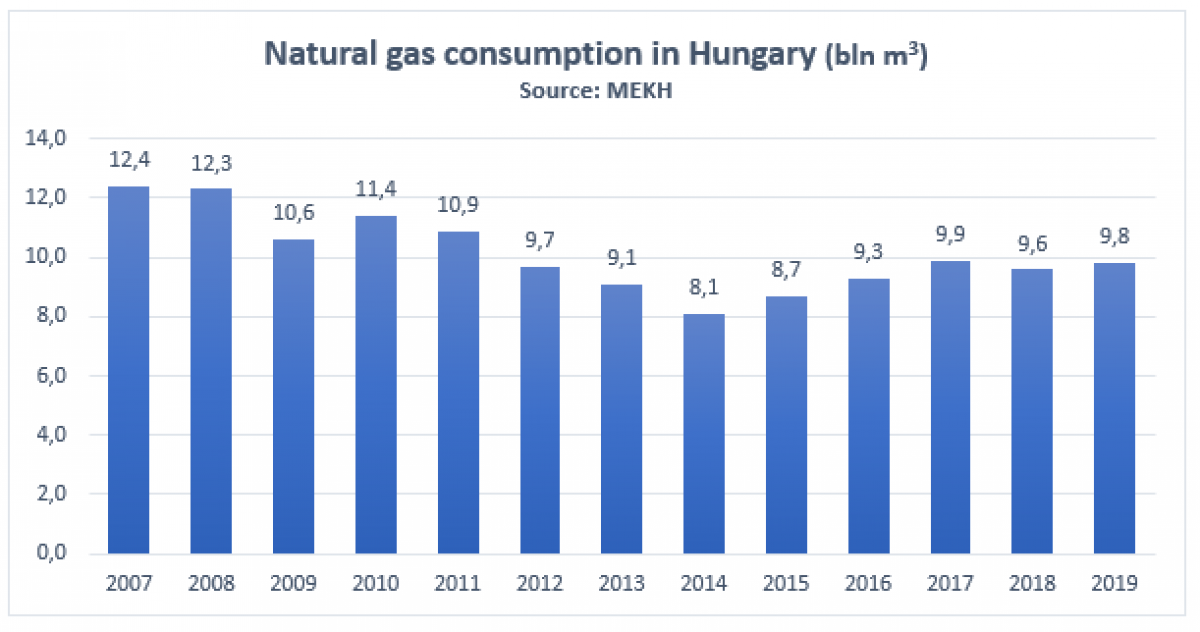 Natural gas extraction appeared in Hungary among the first ones in Europe, with a heyday in the 70s-80s. However, extration has shown a declining trend for years: 1.57 bln m3 gas was extracted in 2019, covering less than one-fifth of domestic consumption. Though, looking into the fuuture, this decreasing-volume extraction is still an important cornerstone of a safe and affordable energy supply.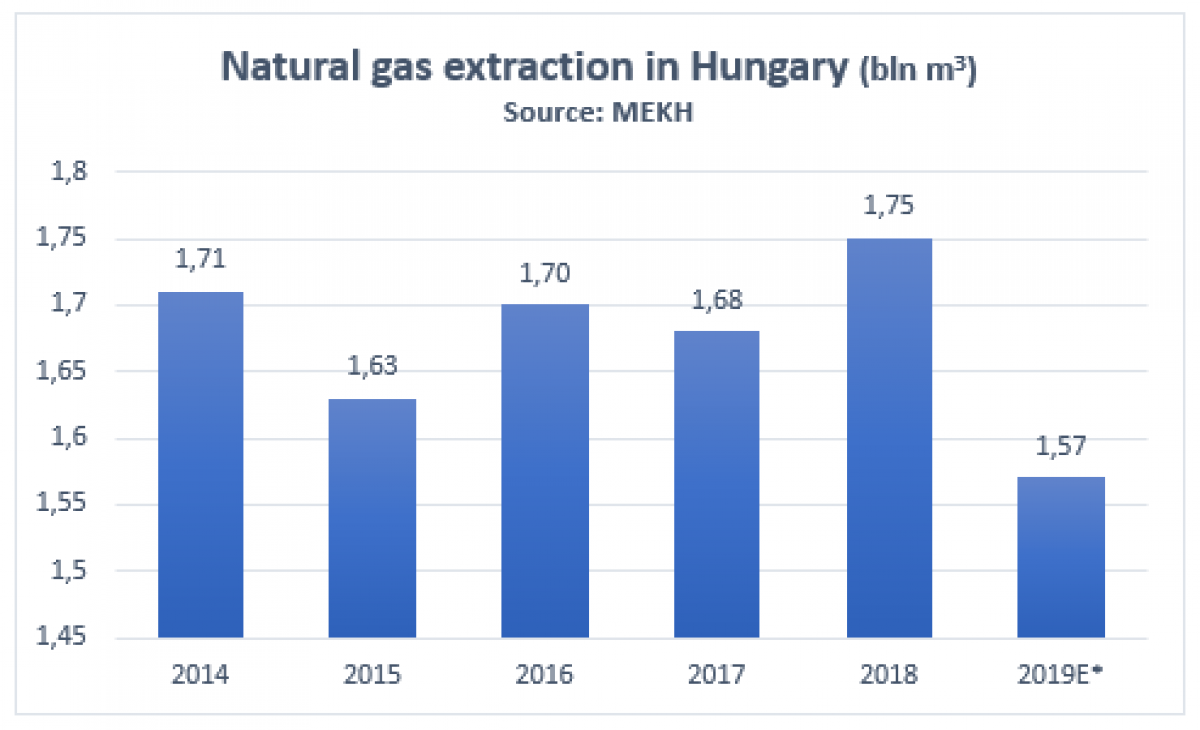 Gas transportation in Hungary not only covers the demand arising from domestic consumption, but since the Hungarian natural gas system is an integral part of the european gas network, more and more significant amounts of gas has passed through Hungary's gas transportation system in the last few years, as quasi transit transport. The remarkable amount of gas reaching Hungary from diverse directions contributes to an affordable domestic natural gas supply.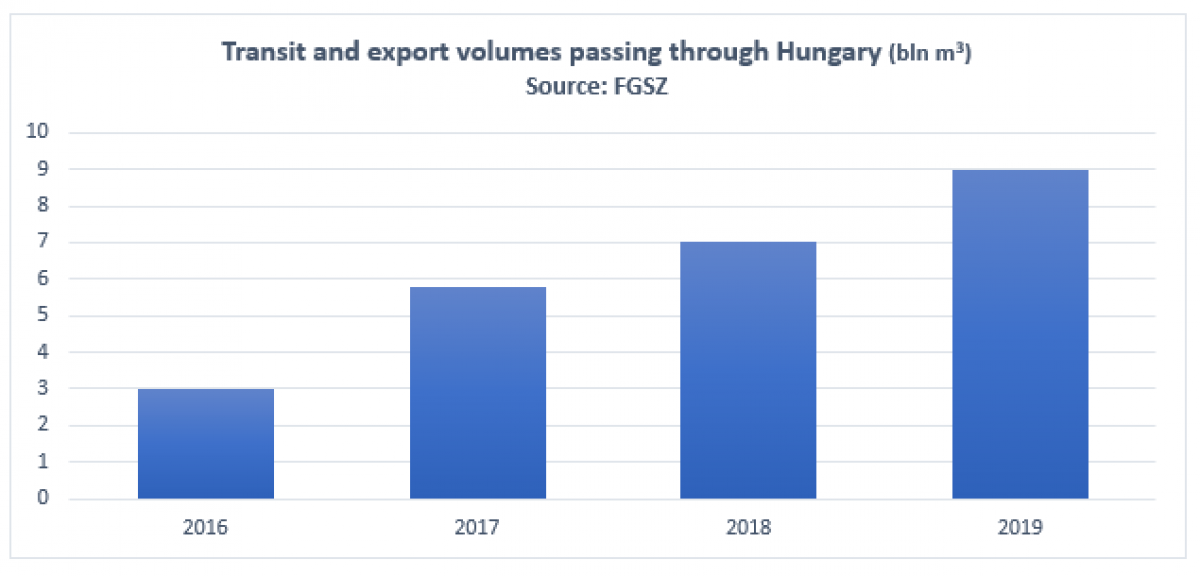 [1] 2018
[2] 2018, EU
[3] 2019, MEKH
[4]https://ec.europa.eu/eurostat/statistics-explained/index.php?title=File:Extra-EU_imports_of_natural_gas_from_main_trading_partners,_2018_and_2019_v2.png&oldid=490409